YlA students meet challenges and drive changes. The focus of the High School program is engaging them in authentic learning activities that equip them with the knowledge, skills, and creative and innovative thinking.
YIA believes that at the High School level, our students are leaders, and all our students are required to serve as part of the Student Council, on top of their rigorous academic program. We desire to cultivate in our students a heart to serve and through that heart of service, to lead.
Explore more
YIA is a place of workmanship. Each child is an individual with strengths, hopes, passions, and dreams. The curriculum provides focus in the classroom and purposeful interactions that teachers have with students throughout the day. This integrated approach is part of the school culture – teaching students to effectively communicate ideas, to address conflicts in a positive way, and to think beyond the obvious. Teachers and support staff work together to ensure every student's learning is supported and challenged.
Curriculum
YIA offers an American-based curriculum based on the AERO standards, with an international focus, providing a solid foundation in both education and character. Our curriculum prepares students to achieve their goals and to impact their communities around the world.
As part of the iSC system of schools, the curriculum undergoes a review every five years. A thorough review process is conducted over a period of time in five stages. Each school year, two to three subject areas are reviewed at the iSC-China level. Selected individuals from all iSC- China schools participate in the curriculum review.
Graduation Requirements
24 units of high school credit are required for graduation. One-half credit is given for each full semester of a course successfully completed in grades 9 through 12. A failing grade does not earn any credit. The following credits must be earned towards graduation:
| Course | Number of Credits Required for 3-Year Program | Number of Credits Required for 4-Year Program |
| --- | --- | --- |
| English Language Arts | 3 | 4 |
| Social Studies | 3 | 3 |
| Science | 3 | 3 |
| Math | 2 | 3 |
| Foreign Language | 2 | 2 |
| Physical Education/Health | 1 | 2 |
| Fine Arts | 1 | 1 |
| College Preparatory | 1 | 2 |
| Electives | 1 | 2 |
| Total: | 18 | 24 |
---
Grading Scale
The standard grading scale for academic work in grades 6-12 is as follows:
A+
98-100
B+
88-89
C+
78-79
D+
68-69
A
93-97
B
83-87
C
73-77
D
63-67
A-
90-92
B-
80-82
C-
70-72
D-
60-62
F
Below 60
Grade Point Average & Grading Scales
A grade point average (GPA) is derived for high school students by ascribing a point value to a letter grade as follows:
A+
4.00
B+
3.33
C+
2.33
D+
1.33
A
4.00
B
3.00
C
2.00
D
1.00
A-
3.66
B-
2.66
C-
1.66
D-
0.66
F
Below 60
---
Students enrolled in AP courses will receive a weighted GPA of 0.66 points more for their letter grade of C- or above.
AP® Classes
The Advanced Placement (AP)® Program gives students a chance to pursue college-level work in high school and gain valuable study habits. If a student scores a qualifying grade on an AP® Exam, there are thousands of colleges worldwide that will give him credit or advanced placement for his/her efforts. YIA offers a broad range of certified AP® courses. For more information about the AP® program and college credits, please refer to http://apcentral.collegeboard.com/home.
AP courses have been designed to provide an additional challenge for students wishing to learn more about a specific subject area. Courses are taught at the level of a university freshman course. Students will receive a weighted GPA of an additional 0.66 credits for grades of C- or higher.
Daily Schedule
A high school life at YIA is enriching and vibrant. Below is a sample schedule of a typical day in high school. Actual schedule will vary across grades.
| TIME | CLASS/ACTIVITY |
| --- | --- |
| 8:00-8:10 | Advisory |
| 8:10-9:35 | Block 1 |
| 9:40-11:00 | Block 2 |
| 11:05-12:25 | Block 3 |
| 12:25-13:05 | Lunch |
| 13:05-13:40 | Block 4 |
| 13:45-14:25 | Block 5 |
| 14:30-15:10 | Block 6 |
| 15:15-16:45 | After-School Activities |
| 16:45-17:30 | Dinner |
| 17:30- 21:00 | Evening Study Hall |
---
Advisory program is a daily part of the schedule. The program seeks to ensure that every student is cared for and guided as well as to build relationships with a consistent set of peers and an advisor. The advisory group is made up of students across grade levels, so that students constantly have a group that they can build the connection with. Every morning, students meet for 10 minutes with their advisor, and they consider questions for their personal growth. Students are also encouraged to set personal goals for themselves, and the advisor checks in on those goals to ensure that students are on track.
Technology
From the 2019-2020 school year, YIA runs on a Bring-Your-Own-Device(BYOD) policy where students have access to their own personal laptops. Students are connected to Canvas, a Learning Management System in which students are assigned work and in which they use to submit their work electronically. Students also have access to Powerschool to check on current grades and graduation progress. We desire for our students to be prepared not only for High School but also for the world. As such, our learning environment is centered around authentic real-world tasks and requires a high degree of critical thinking and collaboration, together with high technological competence.
Science Fair
In the annual YIA Science Fair, students work on independent research of a science topic using the scientific method. Selecting a problem, making a hypothesis, conducting the experiment, collecting data, and giving the presentation allows students to acquire knowledge and skills necessary to becoming a scientist. This is essentially an opportunity to study any science topic that interests them.
Student Leadership
Student Council's mission statement is "The YIA Student Council strives to become world-class servant leaders by seeking to unify students, staff, and parents in endeavors to positively influence our community."
The Student Council gives our students opportunities to grow as student leaders and work towards their purpose of unifying our school together. The Student Council is responsible for the planning and execution of various events throughout the school year, such as the Student Council Carnival, Secondary and Family Game Nights, and Spirit Days. Finally, the Student Council operates the Student Council Store, which exists to provide an opportunity for our students to develop leadership and practical skills in the running of a store, and at the same time, meet the needs of our student body. The proceeds of the store help to fund the Student Council events.
Planning Guide
SUPPORT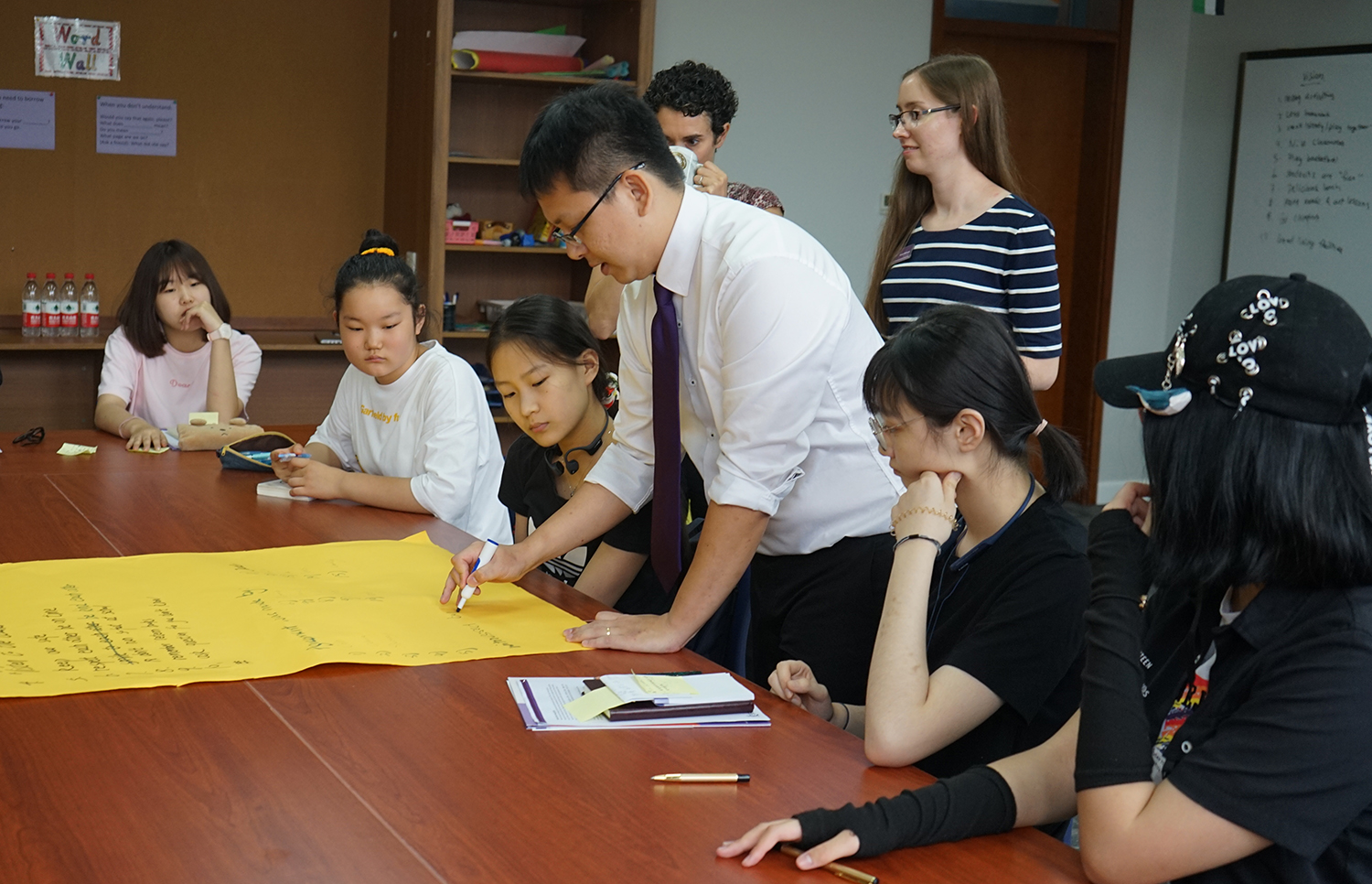 At YIA we understand all too well that living abroad and going to school away from home and old friends can be challenging for children of all ages. The difficulties they struggle with are not always visible or clearly expressed. If not addressed, this can affect their behavior as well as their academic performance. For many students, living in China makes it more difficult to choose the subjects and select the colleges that would fit their passions and skills.
COLLEGE & CAREER COUNSELING
College is an important stage in life, and we recognize that it is a stepping stone towards a bigger world. In order to best guide and prepare our students, YIA provides college counseling in a one-on-one setting. Our goal is to help each of them find a major that can best assist them for their future by exploring the different options. Moreover, through providing information on prestigious colleges across the world, we hope to help them narrow down the list of colleges they are aiming for and find the ones that best matches their goal. Our high school students' academic performance and standardized testing grades will also be monitored regularly to encourage their improvement and help them equip with all the necessary criteria to become a stronger candidate. We also recognize the importance of the supports from parents, so we collaborate with parents to bring out the best outcome. Our goal is to foster students' growth by providing them with all the options they have and help them bring out their best so they can thrive in life beyond YIA.
CO-CURRICULAR
The best learning is active and engaged. It can be found in ordinary places. Activities outside the classroom are not merely add-ons to the core curriculum. These activities energize students and help them to see the holistic connections between mind, body, and spirit. They are a continuous enrichment, a way to sustain and deepen learning.
At YIA we believe that co-curricular activities are an important part of education that extends beyond the classroom. Co-curricular activities provide motivation for learning, character building, physical growth and creativity while developing confidence and educating the whole child. Students are encouraged to participate and explore all opportunities that interest them. Students who are involved in Co-curricular opportunities become more invested in the school experience, therefore increasing the opportunity for higher academic performance and social well-being.
ATHLETICS
YIA recognizes many students and parents have an interest in athletics and firmly believes that athletics program is an essential part of the development of the whole person. Physical activities also play an important role in enhancing students' school accomplishment. By participating in athletics programs, students have opportunities to develop responsibility, sportsmanship, teamwork, and character, etc. YIA runs athletics programs by seasons: volleyball in the fall, basketball in the winter, and soccer in the spring.
CONCERTS & PERFORMANCES
Public performance is a fantastic way for young learners to develop confidence and is an integral part of our program. Throughout the year, YIA students have the opportunity to showcase what they're learning for peers and parents at seasonal performances in the fall, winter and spring.
CLUBS
After-school activities are a great tool in our aim to develop well-rounded students. The school sponsors a number of after-school activities that give High School students an opportunity to explore and excel in a particular sport, hobby, or area of interest.
Model United Nations
This is a great opportunity for students to participate in a simulation of the real work of the United Nations! They learn collaboration and presentation skills while researching the issues and policies of a particular country!
Band
This year, Band Club invites not only rock band instruments, but also orchestral/symphonic instruments to join as well. The students meet weekly to combine their musical talents and creativity and to select their own music to perform at events.
Multimedia
The YIA multimedia club meets every Thursday afternoon. It serves to encourage students to take an interest in the activities around our school,and record them in various media such as pictures, videos, broadcast, etc.
Ceramics
With their hands, students learn the joy of creating the physical and chemical properties of clay, the firing process and how to run some of the larger pieces with ceramic equipment.
Student Council
It gives our students opportunities to grow as student leaders and work towards their purpose of unifying our school together. It is responsible for the planning and execution of various events throughout the school year, such as Carnival at Christmas Market.
Athletics
YIA athletics program continues to grow stronger each and every year. We offer several sports for high school students to participate in during the year including: volleyball, basketball, soccer.
Ready to check us out?
We would love to have you come for a visit to our school.