ONE AMAZING CAMPUS
Built for learning.
The YIA Campus opened in the Fall of 2016. The location of the campus is centrally located in Yantai, Kaifaqu district. Proximity to the airport and is only 2km from the beach. The school building is purpose-built specifically for an international school. It is roughly 20,000 square meters, and five stores tall. Classrooms equipped with interactive learning experiences, two fully equipped science labs, two fully equipped art rooms (including a pottery kiln). We also have two acoustically designed orchestra practice halls, eight acoustically engineered music practice rooms. The YIA Campus offers up-to-date high quality, multimedia classroom systems and wireless access in all areas of campus. Moreover, the numerous working areas on campus will provide students with pleasant learning areas, outside of the classrooms. YIA Campus has a library, with lounge, and reading areas for Kindergarten through High School. For indoor and outdoor sports, YIA has access to state-of-the-art gymnasium, track and field, soccer, basketball, play areas, and wide open outdoor study areas. Our campus has a 650 seats auditorium/theater, with full lighting, LED backdrop, sound system, and theater-like seats.
Campus & Facilities
LEARNING SPACES:
Bright, colorful, welcoming classrooms
Specialist areas for Science, Music, Art and Drama
Two Dedicated/ Acoustically Built orchestra rooms, with 8 acoustically sound music practice rooms
2 art rooms with equipment to design and make just about anything
Multi- Media room, with access to:Cameras, amateur and professional grade, Video Gear, Amateur and Professional editing tools for photo, video, and digital/print design
Dedicated theater for Music and Drama performances
Well-resourced Library/Media center
Access to additional technology resources (iPads, digital cameras, video and audio recording equipment)
Freshly prepared hot and cold food service
Dedicated food seating area
CAFETERIA
Healthy and Delicious Lunch
Eating well-nourished food is an essential part in students' academic achievement. In order to help our students, eat and grow well, YIA is committed to providing delicious and balanced foods that are served by our professional chefs.
Cuisines
We recognize that our students are from different places all over the world. In an effort to satisfy students' different taste, we offer three different cuisines every day including Korean, Western, and Chinese.
Freshly prepared hot and cold food service.
ATHLETICS AND OUTDOOR SPACES
Astroturf pitch for soccer and outdoor team sports
Track and Field
Hard court area for basketball and outdoor play
Range of outdoor play areas with sports and play equipment
Modern, well-equipped gymnasium
Additional multi-sport hall
Dedicated ballet and dance studio
Large playground area with extensive play equipment
Quiet outdoor play area
Garden area
LIBRARY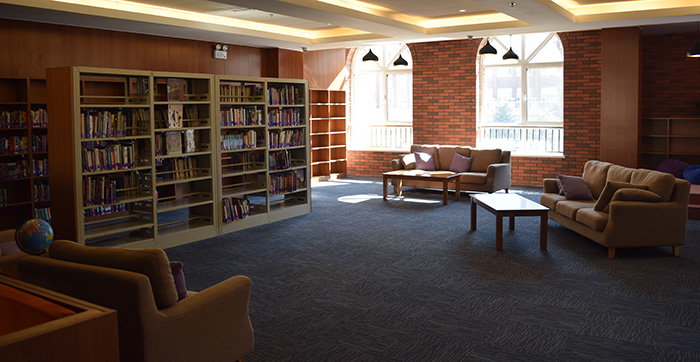 YIA has two library locations specifically organized to serve our diverse school community. Second Floor library collection consists of materials for elementary and secondary. The third floor library will be specifically providing a cozy reading and studying environment for the middle school, high school students and adults later.
Parents are encouraged to utilize the YIA library as well. Our library provides three language books which include English, Korean, and Chinese. We also provide computers for students to search for books. We use a color code system to help students, staff, and parents find books with more ease, for example; yellow code for Elementary books, purple code for secondary books, white code for Chinese and Korean books, and pink code for classical collections. We also encourage families to donate fiction and nonfiction books in Chinese and Korean to our collection.
In addition to a growing book collection, we subscribe to Tumblebooks, an online library of books, resources, and activities for preschool through high school. Social Studies databases are available for secondary students to use for research.
Both libraries are not merely a place where we foster students'love for lifelong reading, but also social learning spaces where students are encouraged to come in as casual groups to mingle with each other. The elementary library also has an enclosed classroom where students and teachers are welcome to use to practice speech assignments, work with friends, or tutors.
For more detailed information about the YIA Library, please Click YIA Library